The wishlist feature is a great way to keep track of books you can't wait to read! While browsing, you can save a book by clicking the Add to Wishlist button located on the item's listing page.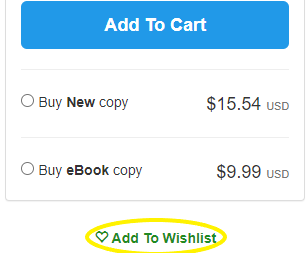 How to Access Your Wishlist
Login to your account and click on Wishlist from your Account dropdown menu.

Wishlist Features
Check the availability of items saved to your wishlist.
Available items will list the current price and a recommended copy.
Use the See Details button to go back to the item listing for more details and to view all available copies.
Simply click the Add to Cart button once you are ready to buy an item.
To take an item off of your wishlist, click the Remove button.
We are always looking into additional options for our wishlist feature and will implement them as we are able.
Frequently Asked Questions
Will Better World Books email me once an item becomes available?
At this time, we are unable to send out notices as items become available.
Can I add items to a wishlist without an account?
No, the wishlist feature is only accessible from your Better World Books account.
How do I take an item off my list?
To remove one or more items, use the Remove button or use the Clear Your Wishlist button to remove all saved items.
Can you restore items from my wishlist that were removed?
Unfortunately, we are unable to restore a wishlist once the items have been cleared.
Can I share my wishlist?
Yes! As shown in the picture above, there is a link you can send to friends. You can also click "Change Settings" if you want your wishlist to be private.
Still have a question about your wishlist? Please contact us!