At the bottom of every page of our website, you'll see a gray area with lots of information options.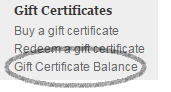 Look under the section toward the left, titled "Gift Certificates". Click here to get there fast. 

Click Gift Certificate Balance, and enter your number in the pop up screen.  Voila! Your balance will be revealed.